Share:

The EUR/GBP stepped back on Tuesday after a bullish breakout to kick off the week.
The midweek sees UK inflation figures, and a rate hike from the BoE.
Friday will cap off the economic calendar with UK Retail Sales, PMI figures for both currencies.
The EUR/GBP took a dip on Tuesday after starting the week strong, and the pair is backing into the 0.8620 neighborhood after the week kicked off with a decisive bullish breakout that couldn't maintain momentum.
It's a hectic week for the Pound Sterling (GBP) on the economic calendar. Wednesday will see inflation figures with the Consumer Price Index (CPI) expected to show an uptick to 0.7% from the previous decline of -0.4% for the month of Aug.
The annualized CPI figure for August is also expected to ramp up, forecast to print at 7.1% versus the previous 6.8%.
The UK is broadly expected to suffer from the stickiest, most stubborn inflation of all the advanced economies, and the Bank of England (BoE) will have its work cut out for it as it tries to rope in inflation without cutting the knees out from under the UK's economy.
BoE benchmark rate to climb once more on Thursday
The BoE is expected to raise its benchmark interest rate by another 25 basis points on Thursday, bringing the headline interest rate to 5.5%.
Friday will close out the week with a bang, with UK Retail Sales expected to show further increases, as well as Purchasing Manager Index (PMI) figures that are slated on the docket for both the EU and the UK.
EUR/GBP technical outlook
The EUR/GBP kicked the week off with a bullish break of the descending trendline from July's swing high of 0.8700, but momentum is proving a fickle beast ahead of a data-heavy back of the week.
The EUR hasn't been able to maintain a firm hold of the pairing, despite the recent lift from August's bottom near 0.8500, and the trendline break could work out to be temporary if GBP bulls find their feet heading into the back half of the week.
EUR/GBP daily chart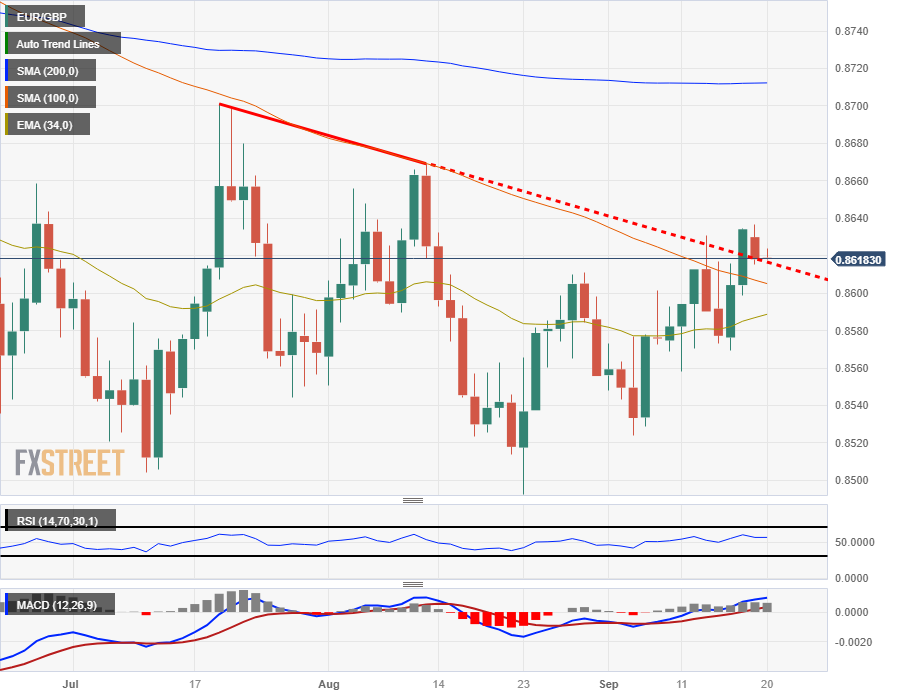 EUR/GBP technical levels