Share:

EVgo reported revenue more than 36% above consensus.
EVGO stock jumped 22% on Thursday as up another 2% in Friday's premarket.
NASDAQ futures are flat, while Dow, S&P 500 slightly up on Friday.
EVGO saw revenue jump 283% YOY.
EVgo (EVGO) stock has added another 1.9% in Friday's premarket one day after surging 22% on the back of a major quarterly sales beat. The stock is trading up to $7.20 a share at the time of writing, and it appears bulls have their sights set on the $7.50 resistance level.
NASDAQ futures are flat in the premarket, while Dow and S&P 500 futures are up 0.2%.
EVgo stock news: Sales begin to pick up
EVgo finally got around to releasing results from the fourth quarter ending in December 2022. EVgo reported sales of $27.3 milllion, well out in front of Wall Street's expectation for $20 million. On top of that EVgo's EBITDA loss of $20.1 million was about $4 million better than consensus forecasts.
The company improved its overall results by boosting its electric vehicle charging infrastructure. EVgo had 2,800 charging stations in operation or under construction at the end of the fourth quarter, which amounts to a 47% rise YoY. 
"In 2022 EVgo achieved record revenue reflecting the continued growth of EVgo's ultrafast DC charging network," enthused CEO Cathy Zoi in the press release accompanying the quarterly results. 
Guidance for 2023 revenue was given a wide window from $105 million to $150 million. Though Wall Street consensus for the full year is toward the top of that range at $144 million, the market did not seem to be bothered. Instead, it took Q4's YoY revenue growth of 283% as the primary headline.
EVgo lost just $17 million in the quarter and sold 1.6 million common shares to raise $10.4 million in net proceeds. The company added 59,000 new users in the quarter, and now has a total of 553,000. That last figure is up 63% over 2021. It should continue to grow as the company has a pipeline of more than 4,000 new charging stalls under contract to build. 
EVgo stock forecast
EVgo stock ran right into hefty resistance at $7.50 on Thursday. That price level served as an obstacle during October 2022. A break there would let bulls attempt to test further resistance at $8.70 from September 2022. In the meantime $7 should provied some support as it did last November.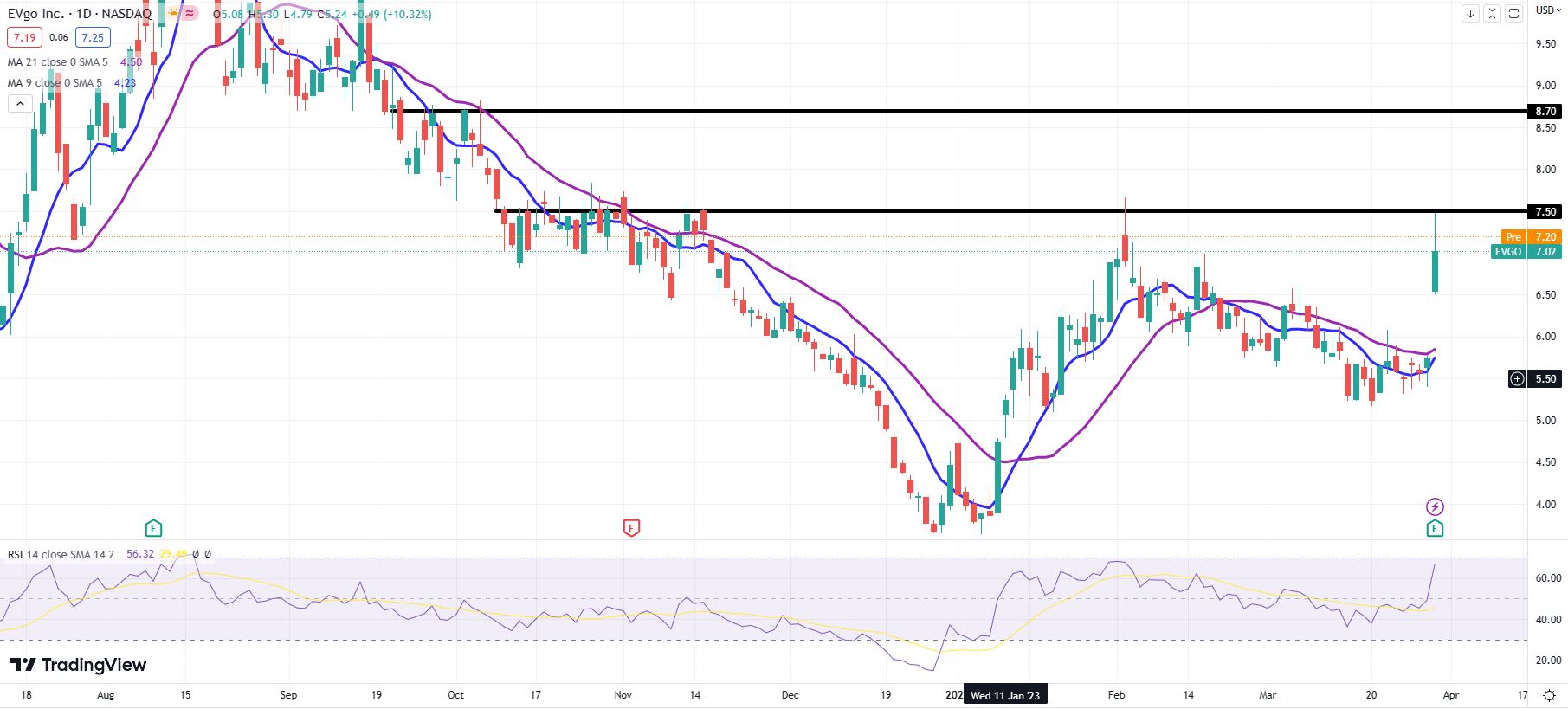 EVGO daily chart