Share:

MongoDB nearly tripled the adjusted EPS expectation in fiscal Q1.
MDB stock completely closed the gap from September 1, 2022.
Atlas platform, which accounts for two-thirds of revenue, increased 40% YoY.
MongoDB added 2,300 customers in Q1, the most in two years.
MongoDB (MDB), a company that provides a cloud database-as-a-service platform to corporations worldwide, surprised the market late Thursday with a strong showing in its fiscal first-quarter earnings results. MDB shot up 27% in Friday's premarket, adding about $6 billion in market cap to the tech firm.
MongoDB stock news: Guidance swings higher
Wall Street analysts had placed their consensus for $0.19, but instead MongoDB brought home nearly three times as much at $0.56 per share. Revenue of $368 million grew 29% YoY and beat the analyst consensus by $21 million.
MongoDB's main product, its Atlas platform, saw revenue rise 40% YoY as the company added 2,300 customers during the quarter – its highest in two years. It now has 43,100 customers.
The outlook is what really drove market demand however. MongoDB CEO Dev Ittycheria guided for next quarter revenue at a midpoint of $390 million. Prior forecasts had average just below $361 million. Ittycheria also said Q2 adjusted EPS would arrive between $0.43 and $0.46 versus consensus from analysts for $0.14.
For the full year, MongoDB's management is expecting revenue of $1.532 billion, while consensus had been $1.510 billion. The consensus estimate for full-year adjusted EPS at $1.04 was easily surpassed by Ittycheria's $1.49 midpoint guide.
"The shift to AI will favor modern platforms that offer a rich and sophisticated set of capabilities, delivered in a performance and scalable way," said Ittycheria on the earnings call. "We are observing an emerging trend where customers are increasingly choosing Atlas as a platform to build and run new AI applications. For example, in Q1, more than 200 of the new Atlas customers were [artificial intelligence] or [machine learning] companies."
MongoDB stock forecast
MongoDB stock was already telling traders it was a buy when the daily chart featured a Golden Cross on May 10. This is when the 50-day moving average crosses above its 200-day counterpart. Although the 200-day was rising at the time of the cross (ideally it should be falling too), it may still be a bullish sign for the stock. MDB stock has been in an uptrend since last November, but this current earnings rally is still a bit surprising.
MDB gobbled up the gap down from September 1 of last year and is now approaching resistance from August 2022 at $390. Above that point there are few bull targets until one reaches the $460 double-top from spring 2020.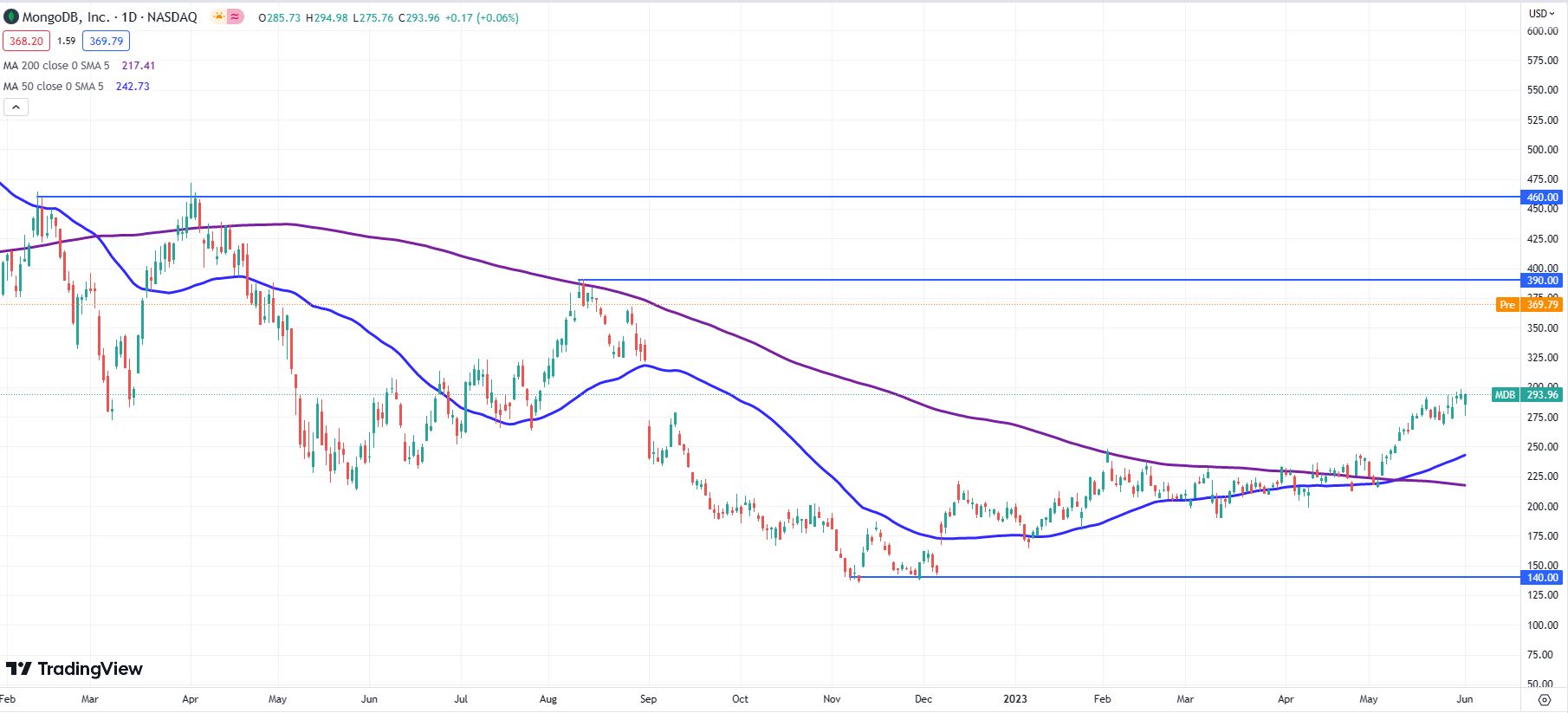 MDB daily chart