Microsoft Edge users may soon have access to a crypto wallet feature, according to screenshots circulating on Twitter. The leak shows a potential integration of a wallet for cryptocurrencies directly within the popular web browser.
While Microsoft has yet to confirm the feature, speculation is already swirling about the potential impact it could have on the growing digital asset market.
Microsoft Edge Crypto Feature 'Baked In' To New Releases
Software documenter and occasional data leaker Albacore posted what appears to be early screenshots of the company's new Web3 wallet's user interface (UI) on Twitter.
A cryptocurrency wallet, an explorer for decentralized applications, a news feed, and the option to purchase cryptocurrency using Coinbase and MoonPay are all shown in the screenshots provided by Albacore. Newer versions of Microsoft Edge have the feature "already baked in," but users can't see it or use it since it's hidden.
Screenshots also show that you can swap, send, and buy crypto assets. Crypto exchange Coinbase and Web3 infrastructure firm MoonPay are shown as "integrated platforms that help you buy and deposit crypto to your wallet."
Newest in the gauntlet of questionable upcoming Microsoft Edge features, a crypto wallet 💸
Not really sure how to feel about this kind of thing being baked into the default browser, what are your thoughts?
More screenshots of the UI in the next tweet ➡️ pic.twitter.com/GAUPiZGLIY

— Albacore (@thebookisclosed) March 17, 2023
If confirmed, the Microsoft Edge wallet will be embedded in Edge rather than a separately installed browser plugin, and it will be non-custodial in that Microsoft will have no access to the wallet's passwords or recovery keys.
However, Albacore emphasizes that many of the things Microsoft develops and tests never make it out of the lab.
Microsoft's Foray Into Web3
Microsoft has been making strides in the world of Web3, the next evolution of the internet that aims to decentralize data and give users more control over their online experiences.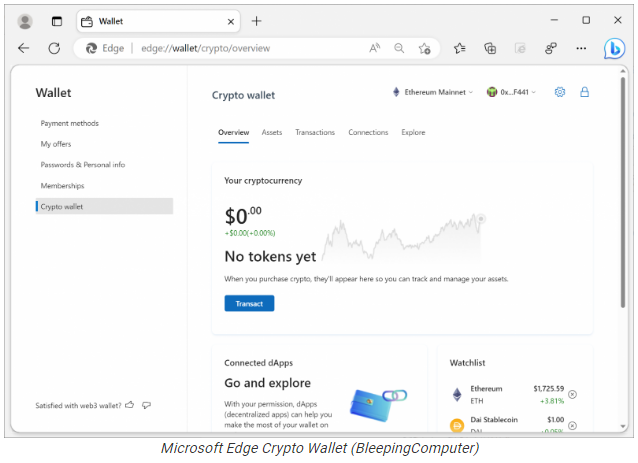 One of Microsoft's key initiatives in this space is the development of its decentralized identity (DID) system, which allows users to create and manage their own digital identities without relying on centralized authorities.
This system utilizes blockchain technology, which provides a secure and transparent way to store and manage data. With the DID system, users can maintain control over their personal information and choose how and when to share it with others.
In addition to its work on decentralized identity, Microsoft has also been exploring the potential of blockchain in other areas.
Crypto total market cap at a little over $1 trillion on the weekend chart at TradingView.com
The company has launched a number of blockchain-based tools and services, including Azure Blockchain Workbench, which helps developers build and deploy blockchain applications, and Azure Blockchain Tokens, which allows businesses to create and manage their own digital assets.
Image: BusinessWorld Online
Microsoft's purported plans to enhance the capabilities of Edge represents a recent attempt to catch up to its rivals in the web browser market.
While Edge has not been as popular as Chrome or Safari, Microsoft is taking steps to significantly bolster its features and offerings.
-Featured image from Bleeping Computer