Share:

Mullen has kept its share price above $1 for 10 consecutive days.
This meets the listing requirement of the NASDAQ.
MULN stock is down 4% in Friday's premarket. 
MULN stock has dropped about 25% since its reverse stock split on May 4.
They did it! In order to meet the NASDAQ's listing requirements, Mullen Automotive (MULN) stock needed to trade above $1 for 10 straight sessions. That requirement was achieved on Thursday after shareholders dealt with the 1-for-25 reverse stock split instituted on May 4. 
MULN stock does not seem to care about the news as it was trading down 4.2% in Friday's premarket to $1.14, while Russell 2000 futures advanced 0.4%. 
Mullen stock news
Back in September of last year, NASDAQ notified Mullen "that its common stock no longer met the minimum $1 bid price per share requirement." Mullen was given 180 calendar days to regain compliance, but the deadline was extended by another six months.
This was necessary as Mullen stock had fallen from a share price above $14 in late 2021 to less than $0.10 earlier this year. The share price decline was a result of the company selling an enormous number of new shares in order to fund its electric vehicle development. The Mullen FIVE crossover EV is not expected to reach commercial production until late 2024 or 2025. In the meantime, Mullen has begun selling its Mullen ONE electric delivery van through the Randy Marion commercial dealership nationwide that focuses on enterprise customers.
In 2022 alone, Mullen expanded its total shares outstanding by more than 60X, going from 23.4 million shares to 1.7 billion. Of course now with the reduction in shares due to the reverse stock split, the float is closer to 161 million, meaning that prior to the reverse split, there were more than 4 billion shares. The share selling will almost have to continue since the company had a loss from operations of $68 million in the first quarter of this year and had just about $116 million in cash on its balance sheet at the end of April.
On Wednesday, Mullen CEO David Michery applauded the company's schedule for beginning commercial production of its Class 3 EV truck in July. The truck will be built in Tunica, Mississippi, in collaboration with NRTC Automation out of Birmingham. The company expects that deliveries could begin as soon as August. Mullen has already received purchase orders for $279 million worth of Class 1 and Class 3 EV vehicles from Randy Marion.
Mullen stock forecast
No good news, move along! That has been the verdict for some time with MULN stock. With constant share sales, no trader can expect Mullen stock to retain any value. Only actual profits could do the trick at this point. Check back later this year to see how revenues are shaping up. Until then, expect MULN stock to break below $1 and to have the NASDAQ complain once again, followed by management foisting yet another reverse stock split on unhappy shareholders.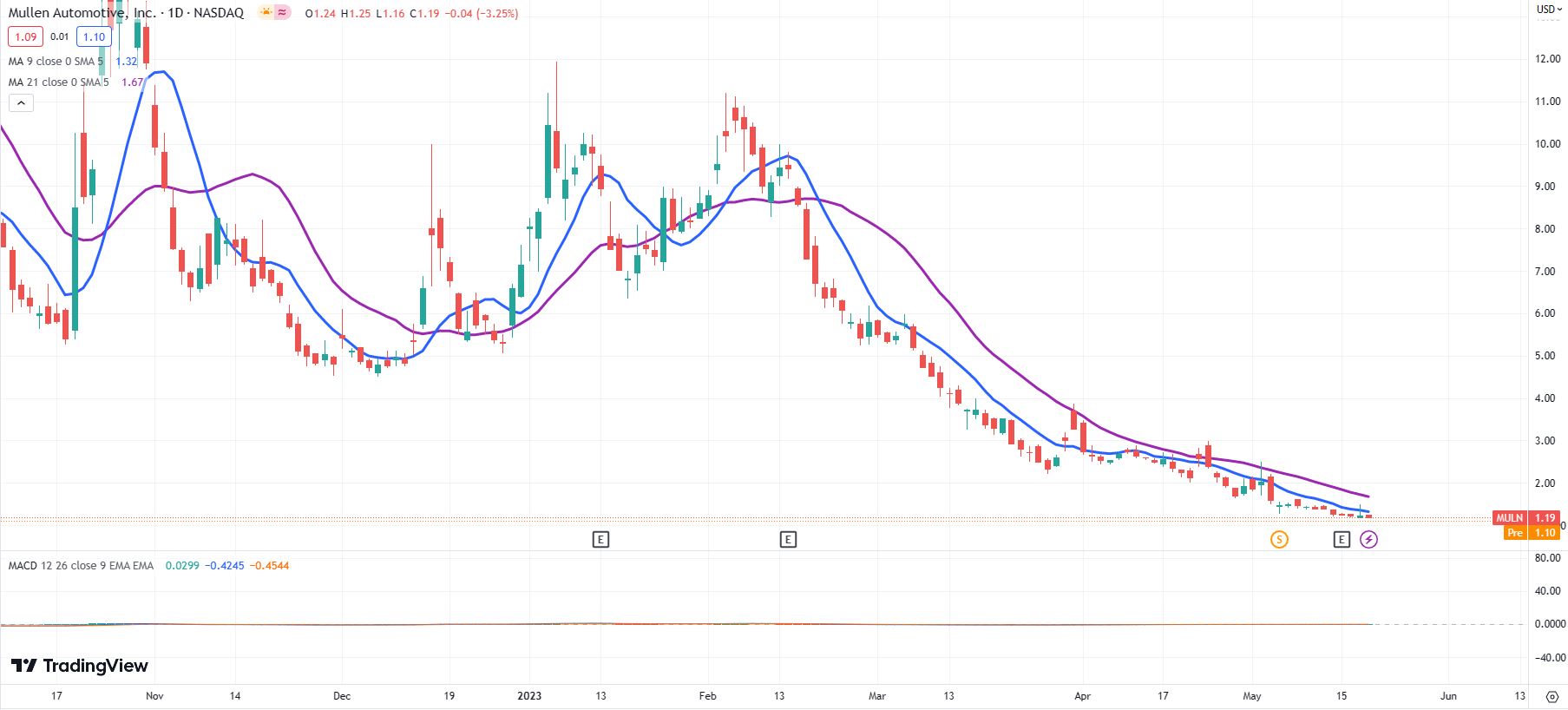 MULN daily chart