Share:

Nvidia clobbers Q1 expecations with large revenue beat.
Nvidia raises guidance for Q2 about $4 billion above prior consensus.
Nvidia stock soars to new all-time high above $375.
NVDA stock adds approximately $173 billion in market cap.
Nvidia (NVDA) stock is up near 23% at the time of writing late Wednesday after the leading maker of GPUs, other semiconductors and life science software reported a hefty revenue beat for the first quarter. That is a new all-time high for the world's leading designer of advanced computer chips.
The graphics card maker reported fiscal first-quarter revenue of $7.2 billion, whereas Wall Street had expected the past year's semiconductor pullback to lead to sales of just $6.5 billion. The revenue beat was nearly 11% better than expectations but still down from the $8.3 billion mark seen in the same quarter one year ago.
The NASDAQ lost 0.6% in Wednesday's regular session as markets worried over lack of movement on debt ceiling debates, while the S&P 500 and Dow both lost more than 0.7%. Much-watched Snowflake also reported moribund results that sent its stock down more than 12%. Nvidia's enthusiastic results then have the ability to completely rewrite the market narrative for the rest of the week.
Nvidia earnings news: NVDA adds $173 billion in market cap afterhours
Nvidia also reported a major earnings beat in the quarter. Adjusted earnings per share of $1.09 beat analyst consensus by 18.5%. Operating income rose 37% from the most recent quarter, and net income rose 25% at the same time.
Nvidia's always animated CEO and founder, Jensen Huang, was in prime condition. From his statements, it is clear to see why the market is eating up his every word. The market only seems to care about artificial intelligence and generative AI at the moment, and Nvidia is the picks-and-shovels approach to investing in the space. Nearly all the most sought-after chips for the supposed AI revolution are in the hands of Nvidia.
"A trillion dollars of installed global data center infrastructure will transition from general purpose to accelerated computing as companies race to apply generative AI into every product, service and business process," Huang said on the earnings call. "Our entire data center family of products — H100, Grace CPU, Grace Hopper Superchip, NVLink, Quantum 400 InfiniBand and BlueField-3 DPU — is in production. We are significantly increasing our supply to meet surging demand for them."
Speaking of data centers, that segment turned in sales of $4.3 billion in Q1 that were 14% above the previous year's results. This is significant, because Nvidia saw a general deterioration in its data center business over the past year that was greatly remarked upon by analysts at the time. Those rainy days appear to now be over.
Additionally, another hard-hit segment – gaming – produced another turnaround. Gaming revenue of $2.24 billion rose 22% over the most recent quarter as distributors began to restock their shelves.
The Professional Visualization segment saw sales rise 31% QoQ, while Automotive revenue surged 114% YoY. The entire quarter was phenomenal, and Nvidia added approximately $173 billion in market cap during the afterhours trade.
Where things got really wild is when Nvidia guided for $11 billion in sales during the current quarter, which is the second fiscal quarter ending in July. Prior to the earnings call, Wall Street had been expecting $7.1 billion. Nearly $4 billion appears to have entered the picture in the last 90 days. 
Nvidia stock forecast
Nvidia has reached a new all-time high. Shares rose about 23% afterhours to $375, which is far higher than the previous all-time high of $246.47 in November of 2021. The Relative Strength Index (RSI) is now strongly overbought, and the stock needs to simmer down. However, this excitement is palpable. This earnings alone is likely to spur a broad market reversal higher on Thursday.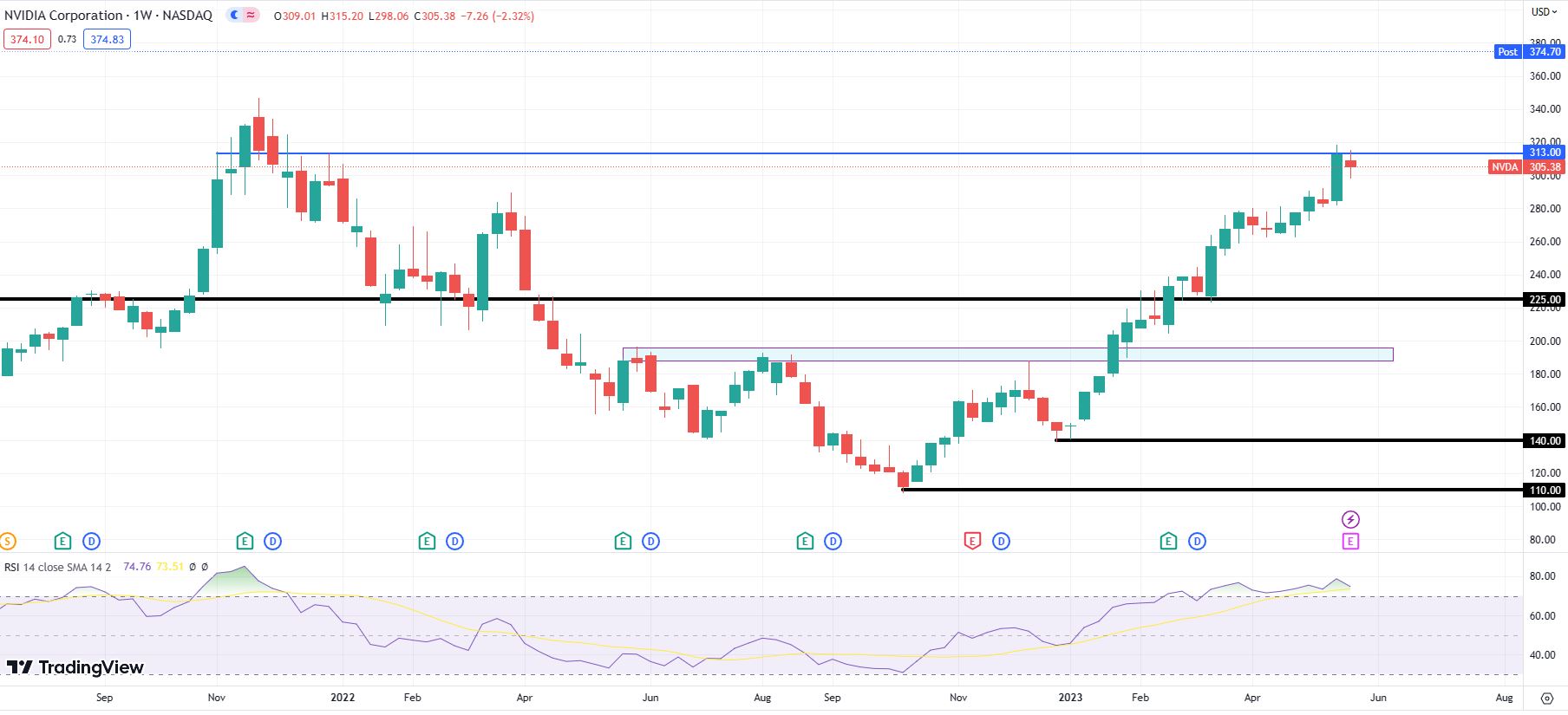 NVDA weekly chart