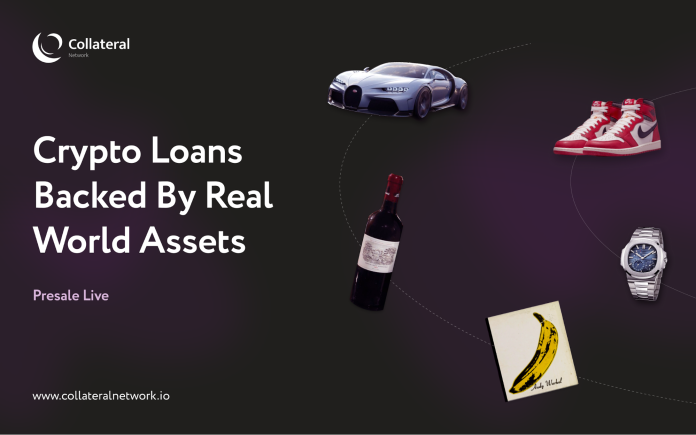 Toncoin and OKB go from strength to strength in terms of price action, Algorand face trouble after a $9 million dollar hack of the MyAlgo wallet, whilst Collateral Network, a new platform that allows people to use real world assets as collateral to borrow cryptocurrencies, release their token COLT in the first stage of its presale, at $0.01.
The Toncoin (TON) ecosystem is surprisingly large
Toncoin was originally developed as the 'Telegram Open Network', as it was founded by the Telegram team.  After issues with the way the ICO was handled, the creators gave it to open-source community Newton group, who developed it and renamed it The Open Network.  Toncoin promises to be extremely fast and will contribute to a decentralized internet by offering decentralized storage, an anonymous network and a domain name system (DNS).
Toncoin's native token TON went up in price this year due to sales of virtual phone numbers used to log into telegram anonymously, and premium telegram handles.
Tonstarter, a launchpad for Toncoin projects, just raised over $1.5 million.  The Toncoin ecosystem has well over 100 projects and protocols already on chain including wallets, fundraising, DeFi, GameFi, staking, NFTs, marketplaces, crypto TG bots and communities.
TON is up by 45% over the last year, which is impressive since the majority of crypto is down over that period, it will be interesting to see how Toncoin develops as a chain.

Algorand, has it really solved the blockchain trilemma?
The blockchain trilemma states that no chain can be truly safe, decentralized and fast/scalable..  Many have claimed that they have solved this, and Algorand is one of them. Critic Justin Bons recently pointed out that Algorand is actually highly permissioned and centralized, just one validator node is needed to 'censor' a transaction, and that validators are hand picked by Algorand. CTO John Woods accepted and welcomed the criticism but got Bons to acknowledge that it isn't quite that easy, and that decentralization was easy to insert into Algorand. Bons also said that Algorand's solution to the trilema was perhaps "good enough" but have "some major limitations."
Although Algorand isn't necessarily responsible for hacks in third party wallets, those looking for security will feel wary after the MyAlgo wallet hack which drained approx $9m.
Algorand is down by 77% over the last year.
OKB keeps going up, regardless of questions about circulating supply
OKB is the token of the OKex exchange.  It is similar to BNB coin in that it is used for trading discounts on the CEX and that like Binance, OKex employ a buyback and burn mechanism to keep the token price of OKB high. On the 24th March the OKex team bought back 5,183,976 OKB worth roughly $177,000,000 and then sent it to dead wallets, meaning it is effectively burnt.
There has been some controversy about how big OKB really is, as the circulating supply varies wildly depending on who calculates it.  Coingecko puts OKB at around 8th by market cap, and CoinMarketCap, who just happens to be owned by Binance, puts it closer to 24th.  CMC strongly assert that there is no bias when it comes to listing and feel that their lower valuation of OKB is accurate.
OKB is down by 10% over the last week, but up by 156% over the last year.
Will Collateral Network's COLT be another outperforming coin?
Collateral Network is a new platform that allows users to collateralize both digital and real world assets, including cars, diamonds, fine whisky, wine, gold and more. These assets are then assessed by a local team connected to the Collateral Network, stored in a vault and used as collateral for loans.  The loans are provided by the Collateral Network community, who can pitch in and purchase fractions of T-NFTS (Tangible NFTs that represent the asset), and earn interest for funding loans on the platform.
The Collateral Network lending protocol is also a cool way of allowing people to invest in various kinds of assets such as houses, private jets and a Bugatti Veyron with the possibility of earning a passive income by helping to fund the loans required by borrowers against these assets. Collateral Network also switches the narrative from pawnbroking which is old fashioned and viewed in a negative light, to a new, technologically minded and safe way to unlock liquidity in your assets.
COLT is the native token of the Collateral Network platform, and has just been released for purchase via the presale at a starting price of $0.01. Crypto experts predict that the price of Collateral Network's COLT could go as high as 3500% from here, smashing the impressive gains from TON, OKB and ALGO.


Find out more about the Collateral Network presale here:
Website: https://www.collateralnetwork.io/
Presale: https://app.collateralnetwork.io/register 
Telegram: https://t.me/collateralnwk
Twitter: https://twitter.com/Collateralnwk 
Disclosure: This is a sponsored press release. Please do your research before buying any cryptocurrency or investing in any projects. Read the full disclosure here.