Share:

Rambus, a US technology company, develops hardware and software technologies used in digital electronics products. Their customizable IP cores, chips, tools, and software enhance their customers' competitive advantage. Rambus collaborates with industry leaders, foundries, and IP developers, with products integrated into billions of devices, powering and securing applications like IoT, Big Data, and mobile payments. The company is known for inventing RDRAM and developing XDR DRAM technology used in the PlayStation 3. RMBS is listed on NASDAQ and is a component of S&P 600.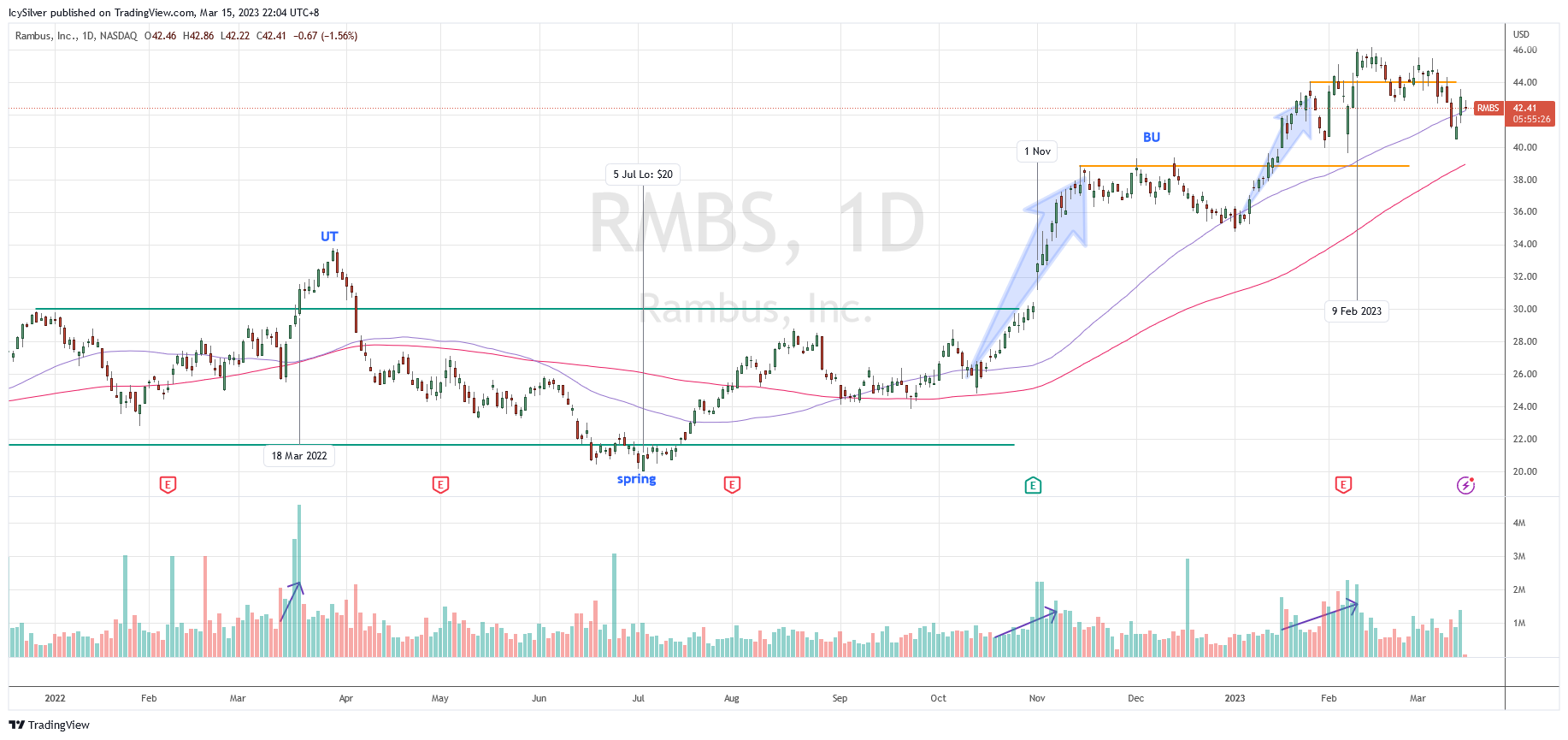 Breaking Out Of Wyckoff Accumulation Phase
RMBS was traveling in a Wyckoff accumulation range between $21.65 and $30 for most of 2022. There was a rally and attempt to break the $30 resistance with an increase in volume. Nevertheless, there was no follow through to the up side and that became a Wyckoff upthrust (UT) when the price retraced back into the trading range. In fact, the price broke below the low of the trading range in a Wyckoff spring manner on 5 July.
This was followed by a minor Wyckoff sign of strength (SOS) rally. The accumulation phase was near completion when the price gap up on 1 Nov to start a major SOS rally. The SOS rally was the best rally thus far and was accompanied by an increase in volume. The rally paused around $38.80 and consolidated in Wyckoff back up (BU) for almost two months.
Since 2023 RMBS has been trending up to challenge the $44 axis line. However, it was unable to stay committed above $44 and is consolidating.
Bias
Slightly bullish. According to the Wyckoff method, RMBS is consolidating between $40 and $44. There is no threatening volume suggesting the up trend is likely still intact. Should it be successful at breaking out from the BU phase, the price could reach $47.50 and $60 subsequently.
If the price breaks below $38, it will likely retest the swing low of $35.50 followed by $30 with a prolonged consolidation in the trading range.
RMBS was discussed in detail in my weekly live group coaching on 14 Feb 2023 before the market opened. Despite the sharp market correction due to the two forces as discussed in the video below, RMBS exhibited strong relative strength while the whole semiconductor group has been outperforming too.